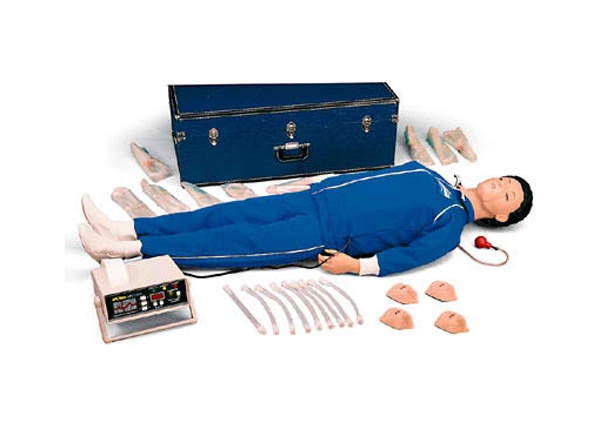 产品型号: LF03711U
产品价格: 询价
产品概述:
全身CPR模型人 电子监测考核打印仪
全身CPR模型人 电子监测考核打印仪的描述:
产品介绍:


1、通过该模型和电子监测考核打印仪,可以练习并考核CPR的四项基本操作:按压频率,按压深度、通气持续时间,通气量
2、红灯提示手的位置不正确
3、每项操作技巧都可以单独展示,系统将按儿童和成人的CPR标准评估学员的操作
4、打印功能将打印出考核过程中学员针对模型人实施的所有操作的技能记录
White CPARLENE® Full Manikin with Memory and Printer, Sanitary Head & Molded Hair

CPARLENE® requires no cleaning! Individual student face masks provide maximum protection against cross contamination. Each face mask is designed with a one-way non-rebreathing valve and is disposable or may be reused after proper disinfection. Molded hair requires no maintenance. The disposable tracheal airway and lower airway with lung bag eliminate time-consuming disinfection procedures. Includes 10 disposable airways, 10 disposable tracheal airways, and five sanitary face masks.
Electronic monitoring allows trainees to critique their performance at a glance. All electronic monitoring units are housed outside the CPARLENE® manikin, connected by a quick-release interface jack similar to a telephone extension. Portable electronics allow monitors, not students, to be moved from manikin to manikin. Helps reduce cross-contamination. All units are powered by "C" or "D" batteries, and change from adult to child readings with the flip of a switch. All electronic CPARLENE® models come complete with jaw thrust feature; a washable jogging suit; child springs; and a hard carrying case with wheels.
This manikin provides maximum student/instructor feedback in four practice modes: compression rate, compression depth, ventilation duration, and ventilation volume. Red light indicates improper hand placement. The performance of each skill is displayed separately while averages are stored in the memory. With the flip of a switch, memory unit evaluates performance based on child or adult CPR standards. The manikin with both memory and printer will print out test strips that plot and tabulate test performance skills indicating good, high, and low results in either adult or child mode. Power saver feature automatically turns unit off, but retains previous data. Low battery indicator. Three-year warranty.
| | |
| --- | --- |
| QQ: | 694088578 |
| MSN: | shkangyi@163.com |
| 电话: | 021-62768568 |
| 传真: | 021-62768623 |